WordBrain answers
Welcome! We have all the answers and cheats you need to beat every level of WordBrain, the addictive game for Android, iPhone, iPod Touch and iPad. This is a game for the true Word Genius! The app game is easy to start and progressively becomes more difficult, making it fun and challenging to play. Find the hidden words, slide your finger over them, and see the puzzle collapse. Do it all in the correct way and you will be able to clear the grid. If you don't know the answer use the form below, select your level pack and we will show you all the answers you wanna know. Have fun!
Updated: 10/05/2023
Enter three or four letters from the puzzle (left to right)
Select your level pack: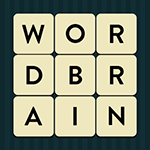 WordBrain is one of the most popular games in Appstore and Play Store. The thing about this game is that it looks very easy in the first levels but, it get really really hard really fast. All you have to do is form real words from the grid of letters. You should use all the letters. The beauty of this game is that it spans over 15 languages and it has so many levels that it will practically be impossible to finish.
---